75% of households had not changed their electricity or gas supplier or tariff in the last 12 months.
was the average overpayment per year by people who don't switch suppliers
In 2019, 23% households mentioned having changed suppliers
is what Utility providers say electricity bills could rise by up to in 2022
23% of people have never switched their energy provider. [Money Supermarket]
is what energy suppliers say you can save by switching (2021)
25% of people admitted to having never checked to see if they could save money on their energy bills [Money Supermarket]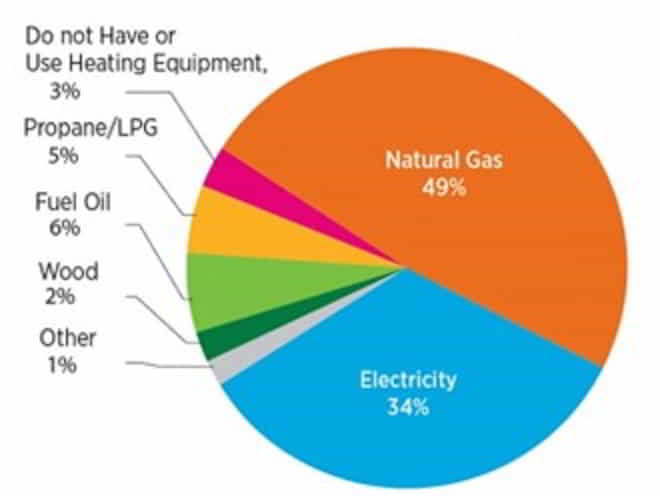 What type of energy should I consider in my home
The majority of homes today are not new and have traditional central heating, double glazing, roof and wall insulation. There are 29 million homes in the UK.

Most houses in the UK have the popular combi boilers which provide heating and hot water. These are usually supplied via gas or oil. The 23 million homes are on gas central heating account for around 77% of total UK heating output. Only 4% have oil and 7% have electric in a number of forms.

Only 5% of houses in the UK are not heated with a central heating system,[2021 statistic]..
Heat pump; central heating is installed in 103,000 dwellings..
Solar panels; 970,000 homes have installed solar panels.
Log burners; Currently, there are between 1.5 to 2 million homes in the UK with log burners and 175,000 new sales made each year but the government as part of the emission debate are trying to reduce log burner usage.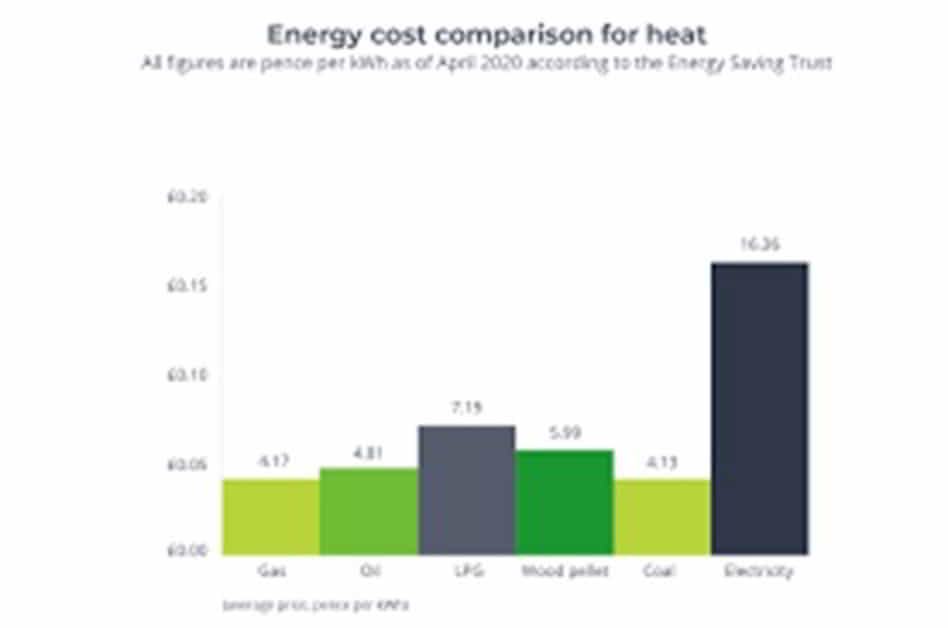 There are pros and cons to every heating system and it down to individual lifestyle. In the past Gas was the most convenient and popular, electric being the most expensive but today with energy prices increasing and Governments setting new environmental targets gas has now become the black sheep and electric the golden boy. But electric is a very expensive alternative.

Looking at the costs for energy, this simple graph on the left shows the comparisons; In 2022 the prices have all changed and costs are escalating for all products, best to do your homework first.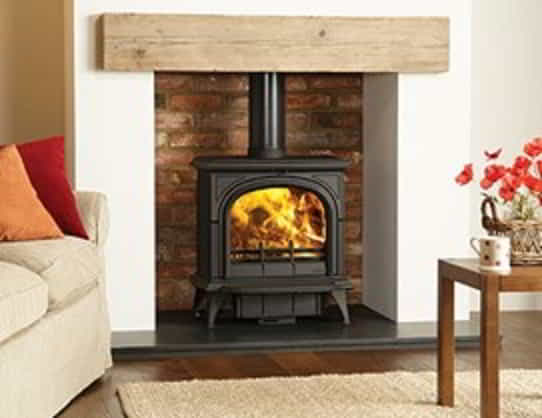 Log Burners are independent and increasing in popularity - I wonder why?
There are roughly 2 million homes with log burners and up until 2010 nobody talked about the health elements, emissions, and the controllability of the industry. The Government decided to start looking closely at this in 2012 and since then there have been surveys, lobby groups, green groups and new legislation and rules introduced from 2019. On top of this the media have enjoyed highlighting the health risk associated with Log burners. Sensational headlines and extracting selective information from health and environmental reports to promote their agenda.

Log burning has been around in our homes for thousands of years and up until 2021 was not overly controlled because it's such a small group of people and users in comparison to cars, trucks, buses and planes.


Introductions
Let's legislate....
The UK Governments Survey on wood burners
Where are they?
When are log burners used?
Survey Uncertainties
Conclusion
New Scheme
Introductions
Click on any of the tabs on the right to see more information
Let's legislate....
The UK Governments Survey on wood burners
Where are they?
When are log burners used?
Survey Uncertainties
Conclusion
New Scheme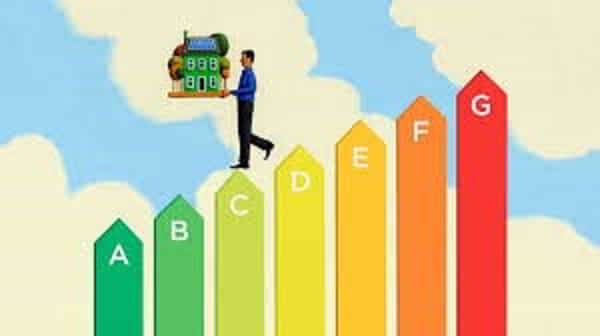 Energy Efficiency Rating – what does it mean and how can it help my budget?
In the UK we use a classification for energy efficient house rating. These rating range from A to G. A rating is classed as the best and G the worst. Over the last 25 years the Government has attempted to upgrade houses to get every household out of EFG ratings and sitting between A and C. This can be achieved with better insulation, wall and loft. Double Glazing etc. Over the last 10 years big steps have been made and now there are only 3% of houses in band F&G.

To achieve more houses moving into the A-C rate would require significant investment on behalf of the householder;
• Over 66% of homes with lower energy efficiency, of D or below, could be brought up to band C for a cost of less than £10,000.
• It would cost less than £10,000 to improve over two thirds of dwellings (69%) to a band C

According to the report improvements to houses could see average fuel savings for dwellings that could be improved to a band C almost £300 a year.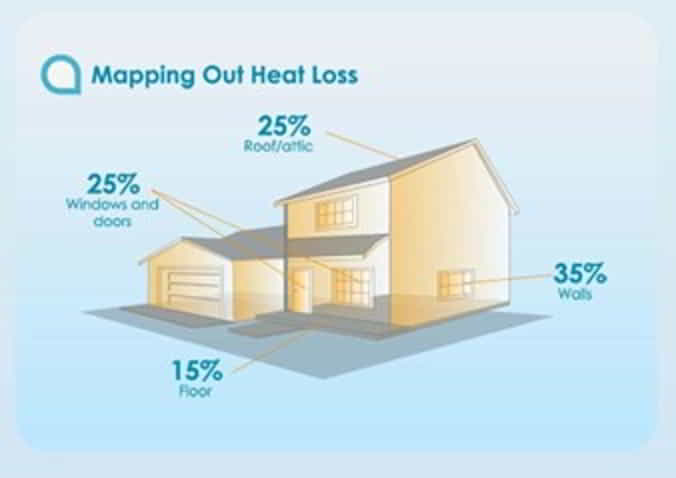 Insulation is the key to lower energy bills
The UK has a historic problem in that we have millions of homes are very old and have insufficient insulation in the roof, walls and windows..

Double Glazing; In 2019, 86% of homes in England had full double glazing
Wall insulation; Around half of all dwellings had cavity or solid wall insulation.
Loft; In 2019, almost half of all dwellings (49%) had at least 150mm of loft insulation.

It makes plain sense that the more we can insulate our homes; windows, walls and roof we retain heat inside and therefore will require less heating and lower costs. The difficulty is the cost of upgrading heating systems and insulation can be expensive and the heating cost savings can take as long as 30 years to get back the initial cash outlay.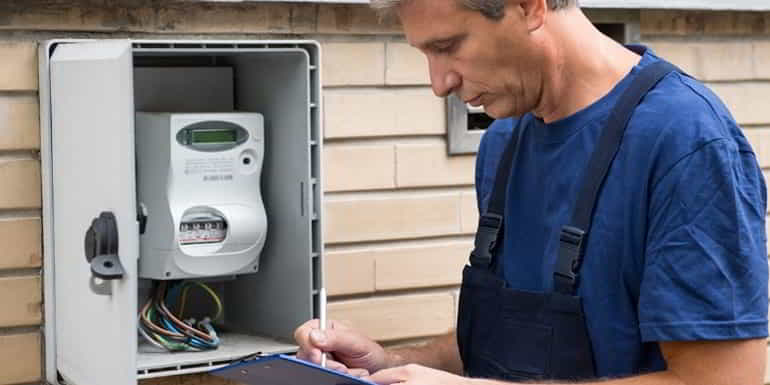 Smart Meters – are they worth installing and why
The government introduced the smart meter scheme to according to them; The rollout of smart meters is an essential national infrastructure upgrade that will make the country's energy system more efficient and flexible, helping to deliver net zero emissions by 2050.

Over 70% of households do not have a smart meter of the remaining 30% the majority are in housing association or local authority.
Introductions
New installation costs
Removing Original Meters
Why should I get a smart meter?
Pros of smart meters
Cons of smart meters
Conclusion
Introductions
Click on any of the tabs on the right to see more information
New installation costs
Removing Original Meters
Why should I get a smart meter?
Pros of smart meters
Cons of smart meters
Conclusion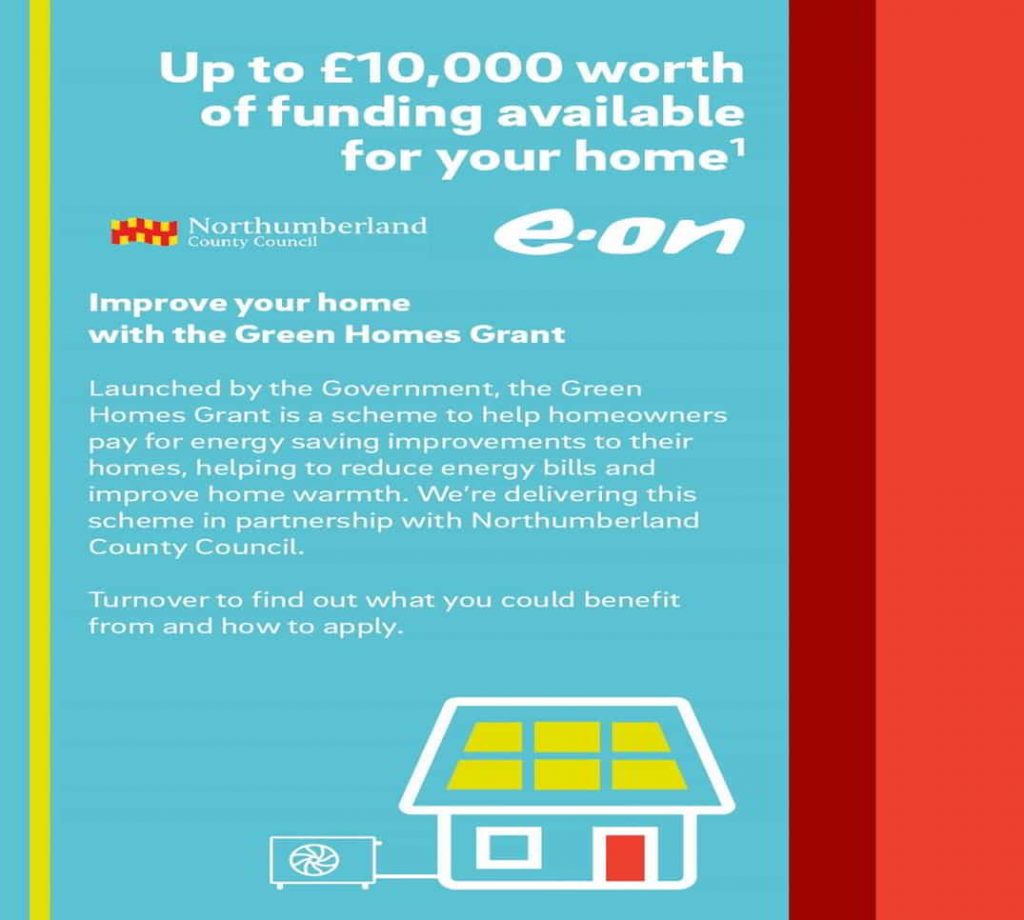 Financial support for energy saving improvements - is it worth it?
Almost 4 million households (17% of households) reported having received financial assistance for energy improvements.
Given the findings relating to the age of the HRP, it is not surprising that length of residence was a good predictor of receipt of financial support. Owner occupiers who had resided in their property for 30 or more years (37%).

The biggest issue with most of these energy saving schemes is quite simple;

The Government introduces a financial scheme to upgrade or renew energy appliances and insulation. Due to the Government's own rigid rules on third party suppliers only the larger organisations get involved with the scheme. Effectively industry and greedy entrepreneurs hijack the Government scheme by offering consumers the upgrade but the costs are extremely high in comparison to supplying the raw commodity and carrying out the work.

An example of this is loft insulation. Companies call consumers offering the Government scheme and claim it can all be claimed back out of your tax over the next 20 years and cost you nothing. The cost of full installation is £xxxxx equal to a lot of money. But you are fooled into believing it's free, when in actual fact if you look online and check the prices you could do the work yourself for 15% of the cost.
Spray foam Insulation is another great example of a Government scheme. Companies hijack the scheme, call you and say it can be free because it comes out of your taxes and quote £25,000 for doing the average house whereas a local independent specialist could do the work for a fifth of the cost and the raw commodity only costs £1,000 to buy yourself.
Here is a chart from the Government's own energy report. You can see in simple terms if you pay out £12,000 to have your home improved it will take on average 30 years to get your outlay back.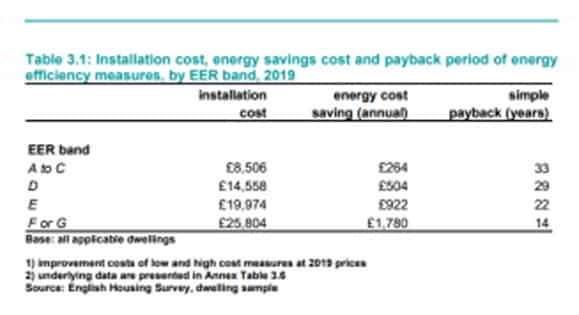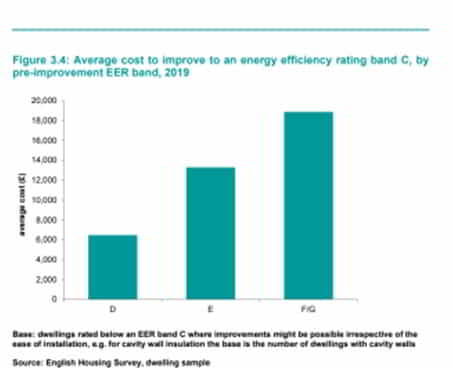 Whereas as an alternative you could do it yourself and just buy your own products or engage a local trades person who will carry out the work. Now, some of the larger Government suppliers will tell you; yes, but our work is guaranteed for 25 years. That's true, but only if the company continues to trade and they often don't.
SO, if you live in an older house the cost of insulating to a higher standard say band C is high.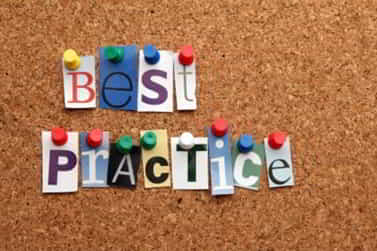 Best practice tips and the best all round approach to heating your home.
One of the best practices you can do apart from the key points below is conserve energy by switching off electrical appliances that you think are off but they are still connected to the electric supply and thereby still using electric so switch them off at the switch.

TV on standby cost £132 a year
Gaming consoles cost £375 a year
Kettle still connected cost £30 a year
Mobile phone connected is £20 a year
So SWITCH OFF ALL appliances you don't need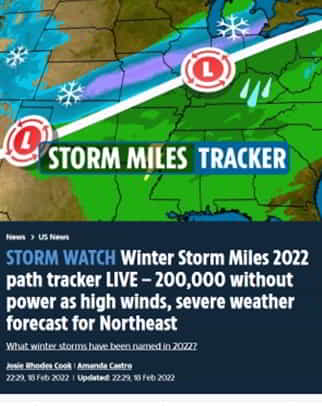 Here are some more tips:
Join an auto switching company which switches suppliers every year if they find a better deal
Do your own simple insulation for the roof its not rocket science
Buy the products for loft expansion foam or wall foam and get a local tradesman to carry out the work.
Install a log burner in your house and use gas or electric as background heating. Use the log burner when the weather extremes kick in.
Buy 3 cubic meters of logs and store them in your garage and avoid paying the extortionate costs of kiln dried logs
Always keep with multi fuel heating and cooking in your home. Just look at the last 4 major storms in the UK with up to 300,000 homes power cut off up to 5 weeks. If you had one source heating, even two which required electric then you would have no heating or water. Multi source is best.
I want to keep control of

I'm happy to let someone else deal with
switching energy supplier
Clicking the button on the back gives you more information and YouDrive's view!
You can register to join us as a member, when you'll be able to download our stuff and comment, or as a YouDriver when you'll also be able to check your health and set up your own action plans to make some improvements.  If you've already registered, sign in below. Or let us know what you think.
In this 8 minute video Paul Andersen explains how humans have consumed energy through history and may consume energy in the future.
Bill Gates on being asked if he'd read every book by Vaclac Smil, a leading scholar of the history of energy use: "I have read all of Smil. There's a book about the transition of the Japanese diet. I don't recommend it."
It doesn't matter what stage  you're at – it's important to be the best you can be.  At the end of the day it's about taking personal responsibility – You Drive!
It's really your choice. You can find out more information about the subject, or see other institutions that can help by going to Support. There you will find organisations, training, coaching, self-help courses and other items to support your personal change. We have also started developing a panel of experts to provide info, advice, help and support. 
There are times when you need some help to meet your aims –  a helping hand. That might be  an organisation that can provide you with some help,  some specialised information or support, or just getting some background reading material.
You can see these by clicking the Support button here.  Some products or services contain affiliate links and we may receive a commission for purchases made through these links
Experts
We are compiling a list of experts who can provide advice, help or specialised services.  You will be able to access these experts from anywhere on our site you see our 'Experts' symbol.  Click the green E to see what our Experts list will look like, with a couple of imaginary 'experts' added!
Scroll down to see more information on this Drive. 
If you register you can also download reports, white papers, quizzes and other collaterals.  We will never ask you for any financial information, and we'll only send you the information you want. You can register for our site either above or in the footer below.  You can provide your own questions and experiences in order to help other members.  We only moderate for spam and inflammatory language – see our moderation policy.
If you've found this interesting, then please share it on social media.  Choose your network!
Save Your Energy
Home Energy-Saving Solutions
Save Your Energy – Home Energy Saving Solutions provides dozens of expert tips and tricks to help homeowners save energy and slash their energy bills.
The Consumer Guide to Home Energy Savings
Save Money, Save the Earth (Consumer Guide to Home Energy Savings)
How efficient are front-load washing machines? When is it time to replace your old refrigerator? These questions and many more are answered in "The Consumer Guide to Home Energy Savings", a one-stop resource for consumers who want to improve their home's energy performance and reduce costs.
Citizens Advice allow you to compare gas and electricity prices – just enter your postcode
Ofgem offer help on how to switch energy supplier 
Citizens Advice information on your energy