These facts are taken from the ONS Digital publication on Adult Smoking Habits in the UK: 2019, dated 20 July 2020.
in 2016/7 attributable to smoking
In the UK, in 2019, 14.1% of people aged 18 years and above smoked cigarettes
attributable to smoking in England in 2016
UK manual workers smoking
In the UK, around 1 in 4 (23.4%) people in routine and manual occupations smoked
is the number of prescription
items dispensed in England
in 2017/18 attributed to smoking
In Great Britain, more than half (52.7%) of people aged 16 years and above who currently smoked said they wanted to quit
was the Net Ingredient Cost (NIC) of all prescription items used to help people quit smoking in 2017/18.
62.5% of those who have ever smoked said they had quit, based on our estimates from the Opinions and Lifestyle Survey (OPN).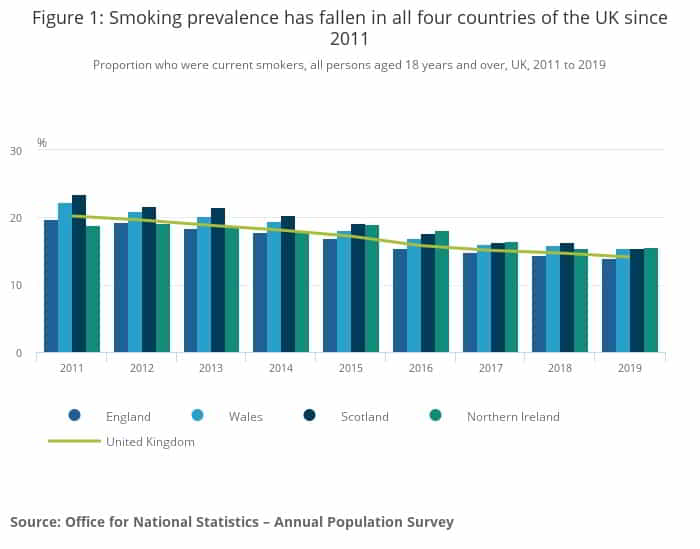 ADULT SMOKING HABITS IN GREAT BRITAIN: 2019
Adult smoking habits in the UK: 2019 Cigarette smoking habits among adults in the UK, including the proportion of people who smoke, demographic breakdowns, changes over time and use of e-cigarettes. This is the latest report, which you can download at the bottom of this page, and the main points not covered in the facts above are reproduced below.

In the UK, in 2019, 14.1% of people aged 18 years and above smoked cigarettes, which equates to around 6.9 million people in the population, based on our estimate from the Annual Population Survey (APS).
The proportion of current smokers in the UK has fallen significantly from 14.7% in 2018 to 14.1% in 2019.
Of the constituent countries, 13.9% of adults in England smoked, 15.5% of adults in Wales, 15.4% of adults in Scotland and 15.6% of adults in Northern Ireland.
In the UK, 15.9% of men smoked compared with 12.5% of women.
Those aged 25 to 34 years had the highest proportion of current smokers (19.0%).
In the UK, around 1 in 4 (23.4%) people in routine and manual occupations smoked, this is around 2.5 times higher than people in managerial and professional occupations (9.3%).
In Great Britain, 5.7% of respondents in 2019 said they currently used an e-cigarette, which equates to nearly 3 million adults in the population.

Smoking is bad for your health
Why should I quit?
Stopping smoking is the single best thing you can do for your heart health, and the good news is that the risk to your heart health decreases significantly soon after you stop. Smokers are almost twice as likely to have a heart attack compared with people who have never smoked. By quitting you'll be improving your own health by dramatically reducing your risk of coronary heart disease, stroke and a variety of cancers. You'll feel better, and have more money to spend on other things that you enjoy.
How does smoking damage your heart?
Smoking increases the risk of developing cardiovascular diseases, which includes coronary heart disease and stroke.
Smoking damages the lining of your arteries, leading to a build up of fatty material (atheroma) which narrows the artery. This can cause angina, a heart attack or a stroke.
The carbon monoxide in tobacco smoke reduces the amount of oxygen in your blood. This means your heart has to pump harder to supply the body with the oxygen it needs.
The nicotine in cigarettes stimulates your body to produce adrenaline, which makes your heart beat faster and raises your blood pressure, making your heart work harder.
Your blood is more likely to clot, which increases your risk of having a heart attack or stroke. Take a look at our cardiovascular disease page to find out more about blood clots and the damage they can do to your body.
Second-hand smoke
When non-smokers breathe in second-hand smoke – also known as passive smoking – it can be harmful. Research shows that exposure to second hand tobacco smoke is a cause of heart disease in non-smokers, which means you could be harming the health of your children, partner and friends.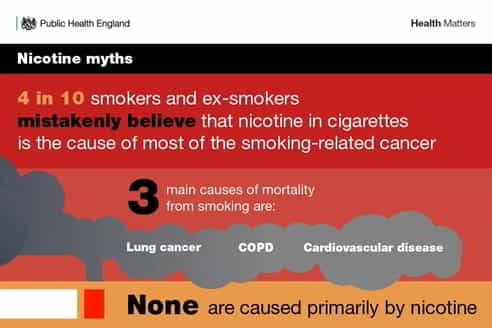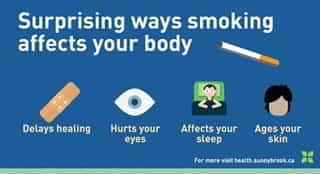 The impact of smoking on your health
Smoking is the leading cause of preventable illness and premature death in England, with about half of all life-long smokers dying prematurely, losing on average around 10 years of life. In 2016 alone, there were around 78,000 deaths attributable to smoking, representing 16% of all deaths across the UK.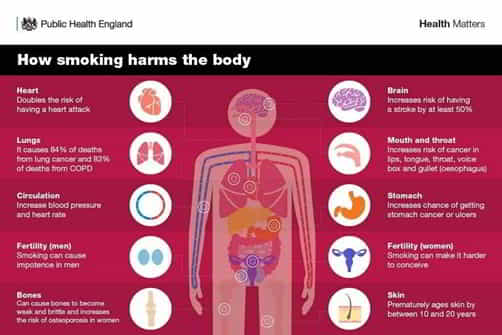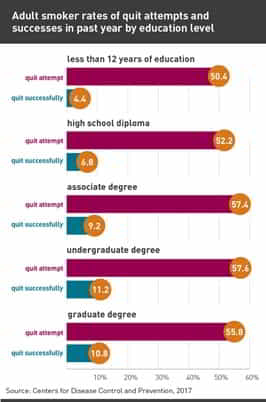 Have you the will power to give up?
Have you the will power to stop smoking yourself or do you need support or perhaps move to the less harmful vaping alternative Giving up smoking covers 3 areas; social, physical and mental

Social - socially or at work we congregate in a group [becomes a type of club] in the designated smoking areas. How do you pull away from the smoking group? Take up vaping is a possibility.

Physical - Nicotine is very addictive and stopping smoking requires you to wean yourself off nicotine using the many substitutes on the market.

Mental - what do you do with your hands or put in your mouth to replace a cigarette. You need to replace these physical habits with something else.
I know smoking is bad for me, so
I'll switch to vaping
I'll have to give up altogether
Clicking the button on the back gives you more information and YouDrive's view!
You can register to join us as a member, when you'll be able to download our stuff and comment, or as a YouDriver when you'll also be able to check your health and set up your own action plans to make some improvements.  If you've already registered, sign in below. Or let us know what you think.
Smoking and Heart Disease
This video from British Heart Foundation describes the link between smoking and heart disease. If you smoke, you're more than twice as likely to have a heart attack than someone who doesn't.
"Giving up smoking is the easiest thing in the world. I know because I've done it thousands of times."
It doesn't matter what stage  you're at – it's important to be the best you can be.  At the end of the day it's about taking personal responsibility – You Drive!
It's really your choice. You can find out more information about the subject, or see other institutions that can help by going to Support. There you will find organisations, training, coaching, self-help courses and other items to support your personal change. We have also started developing a panel of experts to provide info, advice, help and support. 
There are times when you need some help to meet your aims –  a helping hand. That might be  an organisation that can provide you with some help,  some specialised information or support, or just getting some background reading material.
You can see these by clicking the Support button here.  Some products or services contain affiliate links and we may receive a commission for purchases made through these links
Experts
We are compiling a list of experts who can provide advice, help or specialised services.  You will be able to access these experts from anywhere on our site you see our 'Experts' symbol.  Click the green E to see what our Experts list will look like, with a couple of imaginary 'experts' added!
Scroll down to see more information on this Drive. 
If you register you can also download reports, white papers, quizzes and other collaterals.  We will never ask you for any financial information, and we'll only send you the information you want. You can register for our site either above or in the footer below.  You can provide your own questions and experiences in order to help other members.  We only moderate for spam and inflammatory language – see our moderation policy.
If you've found this interesting, then please share it on social media.  Choose your network!
Quit Smoking Today Without Gaining Weight
Paul McKenna, PhD, has developed a breakthrough system to help people quit smoking. 97% of people who use it do NOT gain any weight when they quit smoking. Already an international bestseller, this book and hypnosis CD has helped people all over the world to change their lives.
Allen Carr's Easy Way to Quit Smoking
This book is the most up-to-date, cutting-edge, best-practice version of Allen Carr's Easy Way to Stop Smoking method that will not only set you free from smoking but will also ensure that you find it easy and even enjoyable to quit.
Quit Smoking:
The Easy Escape From Nicotine Dependance To Restore Your Health
Finally A Sure And Proven Way To Quit Smoking While Saving Money And Creating Lasting Change
Quit Smoking: How To Stop Smoking
How To Quit Smoking Book Kindle Edition
We all know the health risks of smoking, but that doesn't make it any easier to kick the habit.
Whether you're an occasional teen smoker or a lifetime pack-a-day smoker, quitting can be tough.
Quitting smoking is a process of forcing yourself.
QuitGo Smoking Alternative
with Oxygen Air Filter, Oral Fixation Relief to Help Curb Cravings, No Nicotine, and Non-Addictive Solution (2 Pack, Menthol)
The Only Smoke-Free & Safe Solution without any Harmful Stuff. The Oxygen Breather is nicotine-free, refreshing, relaxing & relieving. Simple & Easy to Use and can be Enjoyed Anytime, Anywhere even in airplanes. Including in all Non-Smoking Areas.
Public Health England showed what works in terms of stopping smoking
NHS Smokefree is aimed at helping you quit smoking
Cancer Research UL have a section on stopping smoking
Hold My Light offer a four step plan to give up, with support and an app
The British Lung Foundation have a section on stopping smoking, but also have a lot of other information about how we can keep our lungs healthy
Download the Adult smoking habits in the UK: 2019 report