WHAT EVIDENCE IS THERE AVAILABLE TO SHOW IT WORKS?
Dr Lee Berk of Loma University Medical Centre, California, has been conducting laughter therapy research since the late 1970s. In 1989, Berk studied the effects of laughter in 10 healthy males. Five experimental subjects watched an hour-long comedy while five control subjects didn't. Blood samples taken from the 10 subjects revealed that cortisol (the hormone our body releases when under stress) in the experimental subjects had decreased more rapidly in comparison to the control group.
Berk's research has also shown that the level of natural killer cells (a type of immune cell that attacks virus and tumour cells) is increased through laughter. These same cells are suppressed if the body suffers consistent long-term stress.
Researchers at the University of Michigan have also calculated that just 20 seconds of laughter could be as good for the lungs as three minutes spent on a rowing machine.
Click on a heading below and see a summary, and if you're interested you can GO and read more about it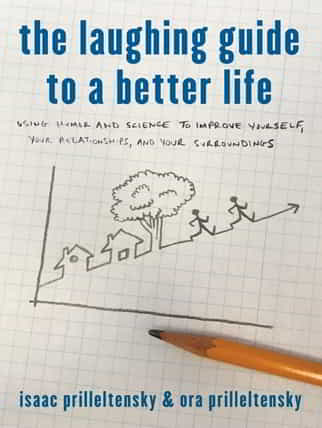 How to use LaughterDrive
There are organisations who can help you in this area – follow some of the links in 'More Info' below. Laughter is a great way of making yourself feel better, and it's free! Feel free to have a look at some jokes voted the funniest at the Edinburgh Fringe by clicking on the year below – it expands to give you the best jokes.

Who can do it?
Laughter therapy is suitable for everyone although most therapists work with Elderly groups, young people in care and mental health patients are all thought to benefit especially from laughter therapy. If you're undecided, remember this: children laugh about 400 times a day whereas adults manage a miserable 15.

What results can I expect?
A laughter therapy session may leave you feeling elated and exhausted in equal measure. Muscle tone and cardiovascular functions may be improved, and oxygen levels in the blood may be boosted.in the healthcare profession or in the workplace, where laughter is used as a means of relieving stress.
In the long term, laughter therapy teaches us that we don't just have to laugh when we are happy. Laughing in the face of anger, stress or anxiety – even if it's forced laughter – can actually lift your mood. And it's infectious, so you can expect to see those around you benefiting from a good giggle too. Speaking of which…

If you can't get out
There are lots of ways of keeping in touch with friends and having a laugh, whether it's playing games online or doing a quiz.
 can be burned by just 10-15 minutes of laughing (Vanderbilt University study)
is how often on average an adult laughs (Martin RA, Kuiper NA. International Journal Of Humor Research 1999)
is how much more likely we are to laugh when we're in a group (Dr Robert Previne)
is the longest stand up comedy show ever, by David Scott aka 'The Midnight Swinger'
How does laughter work?
Brainstuff explain what happens in our minds when we laugh.  This video in under 4 minutes tells us about how the brain works when we laugh.
The Edinburgh Fringe hosts some of the best new comedy
Below are some of the jokes voted as the best in their year.  Click on the year to show that year's jokes.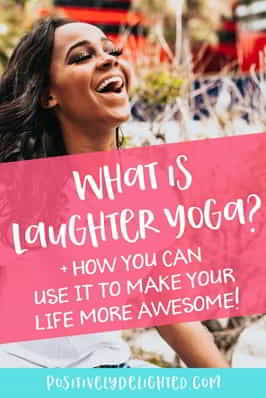 The therapeutic effects of laughter have been clinically studied since the 70s, but Dr Madan Kataria – who developed laughter yoga in Mumbai – is credited with bringing laughter therapy into the mainstream. Kataria set up the first laughter club in 1995. There are now more than 5,000 laughter clubs worldwide.

Laughter Yoga explained
Laughter Yoga is a new form of exercise akin to internal jogging that promotes the use of laughter as a form of physical exercise. It was created in India in the mid-1990s. Laughter Yoga owes its success to having greatly simplified and made accessible to the common man the teachings of earlier laughter pioneers who taught very similar concepts starting decades earlier.
It quickly grew as a grassroots social movement of independent community laughter clubs, promoting the ideal of a non-political, non-religious, non-racial, non-threatening, and non-competitive voluntary (simulated) approach to laughter.
Helpguide.org describes the benefits of laughter as shown below.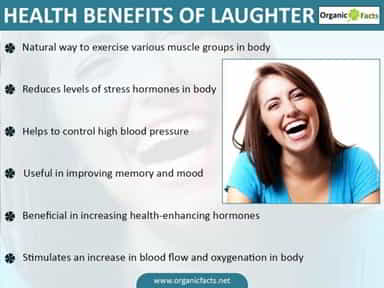 Physical benefits of laughter
These are:
• Boosts immunity
• Lowers stress hormones
• Decreases pain
• Relaxes your muscles
• Prevents heart disease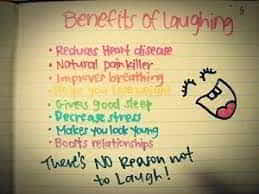 Mental Benefits of laughter
These are:
• Adds joy and zest to life
• Eases anxiety and tension
• Relieves stress
• Improves mood
• Strengthens resilience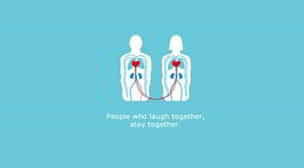 Social benefits of laughter
These are:
• Strengthens relationships
• Attracts others to us
• Enhances teamwork
• Helps defuse conflict
• Promotes group bonding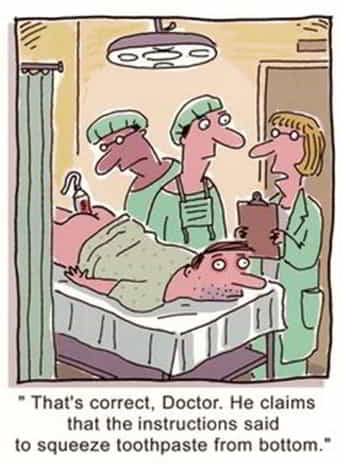 Laughter is the best medicine
Ellen Jacob
"Whoever said laughter is the best medicine was right - it's also the glue that holds friendships together. To laugh together at life's ridiculous turn of events makes those events bearable. To laugh at the funny things in life makes life wonderful. The real gift is having a friend to share…laughter with."
We agree with the experts and it's true, laughter makes us feel better. As adults we have to do so many things and life can be very stressful. We need to make time to be happy.

Look at the faces on the tube or the train or the bus and see who is smiling – most look miserable; saying good morning and smiling to someone can make them smile back, go on try it!

How many times have we heard Christmas is for children, no it's not – the child is in all of us – just reach inside and find it. Let yourself have fun; adults are far too serious but we weren't once upon a time.

Listen to comedy on your headphones or in the car, you will soon start laughing. Laughter is infectious. If you smile at someone then they might smile back unless you live in London and then they think you are weird!!!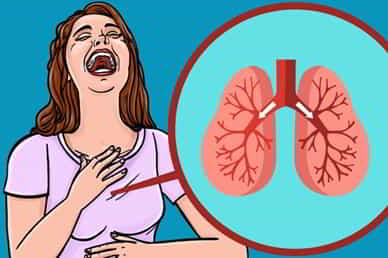 What happens to our bodies when we laugh?
Laughter enhances your intake of oxygen-rich air, stimulates your heart, lungs and muscles, and increases the endorphins that are released by your brain. Activate and relieve your stress response. Laughter triggers the release of endorphins, the body's natural feel-good chemicals. Endorphins promote an overall sense of well-being and can even temporarily relieve pain.

Laughing burns more calories?
This means, laughter will help improve your metabolism naturally, which in turn, influences your body to burn more calories and lose weight. Researchers have determined that just 15 minutes of laughter a day can help you burn between 10 and 40 calories, small we know but its better than being miserable.
Why do we cry when we laugh?
Others theorize people cry while laughing because of too much pressure around the tear ducts due to the body shaking during strong laughter. These tears are called reflex tears, which occur when the eyes come in contact with an irritant such as a strong gust of wind or the aroma of a freshly sliced onion.
Laughter is said to reduce the levels of stress
The hormone known as cortisol that is connected to stress reduces and that also lowers the metabolism rate.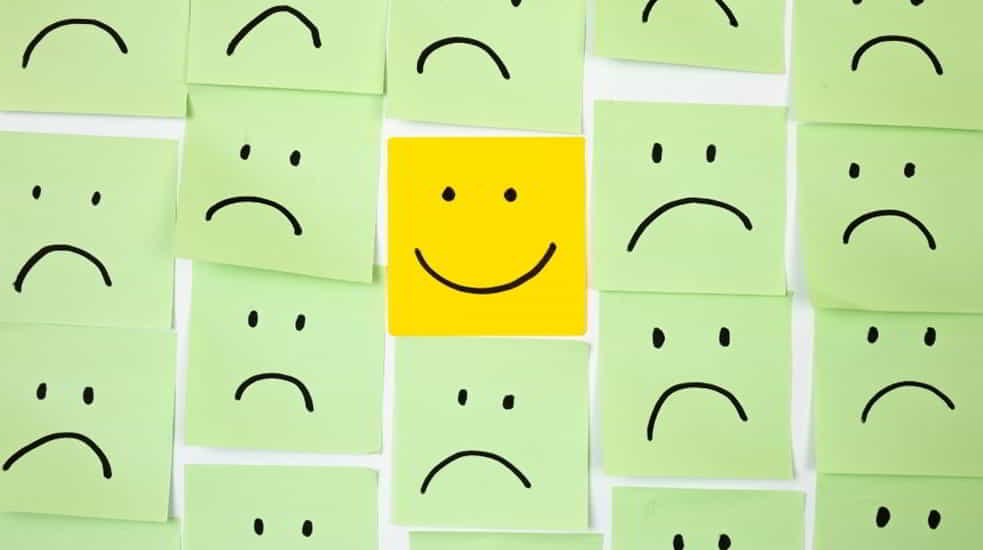 Countering Negative people and situations with a smile to yourself and within
We meet people all the time who say they have a positive mental attitude and are working on their life issues. They say I'm fine when I am at home and focused on me. When I interact with people there seems to be a determination by many to burst my positive bubble. Our reply to that is sure there is, there's millions of cup half empty people out there waiting to hijack you and destroy what you have because they don't have it. The way to bat away the negative onslaught is to shrug your shoulders, smile to yourself and laugh under your breath. Feel sorry for them and turn around and walk away from them.
You can register to join us as a member, when you'll be able to download our stuff and comment, or as a YouDriver when you'll also be able to check your health and set up your own action plans to make some improvements.  If you've already registered, sign in below. Or let us know what you think.
It doesn't matter what stage  you're at – it's important to be the best you can be.  At the end of the day it's about taking personal responsibility – You Drive!
It's really your choice. You can find out more information about the subject, or see other institutions that can help by going to Support. There you will find organisations, training, coaching, self-help courses and other items to support your personal change. We have also started developing a panel of experts to provide info, advice, help and support. 
There are times when you need some help to meet your aims –  a helping hand. That might be  an organisation that can provide you with some help,  some specialised information or support, or just getting some background reading material.
You can see these by clicking the Support button here.  Some products or services contain affiliate links and we may receive a commission for purchases made through these links
Experts
We are compiling a list of experts who can provide advice, help or specialised services.  You will be able to access these experts from anywhere on our site you see our 'Experts' symbol.  Click the green E to see what our Experts list will look like, with a couple of imaginary 'experts' added!
Scroll down to see more information on this Drive. 
If you register you can also download reports, white papers, quizzes and other collaterals.  We will never ask you for any financial information, and we'll only send you the information you want. You can register for our site either above or in the footer below.  You can provide your own questions and experiences in order to help other members.  We only moderate for spam and inflammatory language – see our moderation policy.
If you've found this interesting, then please share it on social media.  Choose your network!
Laughter Yoga
Daily Laughter Practices for Health and Happiness
'Laughter yoga is a perfect way to laugh and get exercise at the same time…I've tried it, and it works.' – Oprah Winfrey
Laughter Is the Best Medicine!
A Collection of the 1000 Funniest Quotes to Make You Laugh, Relax, and Refresh! (Quotes of Fun and Inspiration)
Want to come in a good mood instantly? Need some funny and uplifting quotes with many of the truisms from our everyday lives? Looking for a gift that everyone likes? Then, Laughter Is the Best Medicine is your perfect choice!
Laughter Is Your Lifeline
"The timing of publication is perfect in this troubled, uncertain world and I am utterly delighted that Jo-Dee has offered such a constructive tool to help get us through."
Dr Lynda Shaw
Neuroscientist and Author of 'Your Brain Is Boss'
Laugh Your Way to Happiness
Use the Science of Laughter for Total Well-being (Unlock Health, Vitality and Positivity with Laughter, Yoga and More)
There's no feeling quite like the blissful warmth and serene calm in your body after hysterically cackling with dear friends, and in this book, Lesley Lyle will help you connect with the powerful healing gift laughter can bestow!
Laughter Exercises
The Great Big Anthology: Five hundred laughter practices for health, fun and friendship
Laugh abundantly, without needing jokes nor comedy. These exercises are designed for Laughter Yoga sessions, and also work as improv games and to boost creativity.
Laughter therapy itself can be to provide help with mental health or stress-related issues, and the US based 'Laughter Psychotherapist' Enda Junkins has a site with useful tips. 
Laughter Therapy is the UK's leading provider of team events and workshops
Laughter Association UK provide facilitators to run workshops, events or conferences