…exactly where you're at with your overall health, or wellness, or well-being.  YouDrive can help you understand what's important to you, what your problems may be, what you can do to  improve, and where you can get the help and support  you need.  OneYou, a PHE initiative, provide a simple free quiz to get your health score and point you in the right direction.
Health, Wellness or Wellbeing?
If you're interested in finding out more information about the health (or well-being, or wellness) of people in the UK, then go to our page on Health and see how this is measured and results.
The Active Wellbeing Society (TAWS) define Health as a state of the overall mental and physical state of a person; the absence of disease. They define Wellbeing or wellness as a way of life that aims to enhance well-being and refers to a more holistic whole-of-life experience which also includes emotional and spiritual aspects of life.  We expand on this definition of health to include financial health and mental health, to make it synonymous with wellbeing or wellness.  Click here if you want more information on these different definitions, and how the country stack up.
Can we tempt you to consider what they mean for you and what simple actions and changes you would like to make in your own life to improve your day to day wellbeing? They will make you feel good about yourself and others which is a really important part of being healthy.
How well / healthy are you?
You can download this personal wellness quiz, which was drawn up by Plymouth University in the US and aims to make people aware of their position and think about their choices which could lead to a better lifestyle. 
After this you can download a Wellness Recovery Action Plan from Community Mental Health Peer Advocacy and Support Service (COMPASS), which allows you to plan what you want to do and who can help you achieve it.
In YouDrive we try to provide you with all the information you need to understand your current position.  We show you what the views are on this – sometimes there are a number of different views.  Then we can show you where to look for more in depth stuff by subject – we split this into physical, financial and mental areas.
We show you what you can do to improve your situation. Often this involves providing you with a range of options, and also tools to help you make a decision as to what's right for you.
Making changes usually isn't about 'quick fixes'.  Improving forces you to face your biggest challenges, and stick to a regular routine or habit for a long period of time.  We can provide the support to help you do that.
Health or Wellness or Wellbeing - its aspects
We use 'Health' as the same as wellness, or wellbeing.  A lot of work has been done trying to define what 'wellness' is.  The Cambridge Dictionary defines wellness as the state of being healthy.
More than ever before, we hear the word 'wellness' in the news, in conversation and even at work. There is no universally-accepted definition of wellness. There is, however, a set of common characteristics seen in most thoughtful attempts at a definition of wellness. We generally see a reference to a "state of well-being," which is vague, to say the least. Also frequently seen is a "state of acceptance or satisfaction with our present condition."
The truth is wellness is a tough word to define. That said, we'll leave it to Charles B. Corbin of Arizona State University who gives this definition of wellness: "Wellness is a multidimensional state of being describing the existence of positive health in an individual as exemplified by quality of life and a sense of well-being."
Another definition we like: "Wellness is an active process of becoming aware of and making choices toward a more successful existence.
• Process means that improvement is always possible
• Aware means that we are continuously seeking more information about how we can improve.
• Choices means that we consider a variety of options and select those in our best interest.
• Success is determined by each individual to be their collection of life accomplishments."
So what can we do to improve our health or wellness?
The mental or emotional components are often overlooked to focus on the main issues of physical fitness and chronic disease. In order to achieve a state of wellness in our own lives or try to guide others to it, we must consider all of the dimensions. We may not all be physically fit or free from disease; we can, however, strive for increased wellness by working with what we've been dealt.
Dimensions of Health or Wellness or Wellbeing
If wellness is multidimensional, what are the dimensions of wellness? The most commonly described sub-dimensions are the following: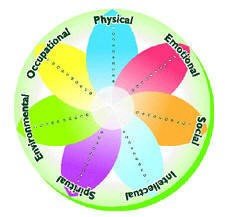 1. Social Wellness
2. Occupational Wellness
3. Spiritual Wellness
4. Physical Wellness
5. Intellectual Wellness
6. Emotional Wellness
7. Environmental Wellness
8. Financial Wellness
9. Mental Wellness
10. Medical Wellness
While the exact dimensions of wellness could be debated, we believe the ones listed here make up a good list.
While the dimensions of wellness fall into two broader categories, mental and physical, we believe that financial health is a key driver for both of these.