Many people often go to the same places on holiday or same restaurants because they know the routine, they don't need to overthink or fear the unknown in somewhere new. Getting fit is the same. If we haven't run, jogged, swam, cycled in years then not only is it a strain on the brain but on the body. Especially if we do as most humans do and go crazy and cycle 10 miles on the first outing and then your legs ache for days and then our brain says give up.
In FitnessDrive we also highlight fitness in older age – especially between 50 to 70, as this is the third stage of our lives when our personal wealth is generally increasing and our children have often left home and we are focusing back on our own lives. This around the time of the  menopause/manopause and we need to consider illnesses, such as metabolic syndrome.
Click on a heading below and see a summary, and if you're interested you can GO and read more about it!
150 MINUTES of moderate intensity activity per week, in bouts of 10 minutes or more, is what all adults should aim for
Only 10% of people are successful at losing weight through diet alone (American Council on Exercise)
3,600 CASES A YEAR of cancers in the UK are linked to people doing less than 150 minutes activity a week
89% of people who use a combination of diet and exercise were successful at keeping the weight off for over one year. (National Weight Control Registry)
6 out of 10 people in the UK do the above average 150 minutes per week
People who are physically active for approximately seven hours a week are 40% less likely to die early compared to people who are only active for less than 30 minutes a week. (Centers for Disease Control and Prevention)
£7.4 BILLION is what the lack of physical activity is costing the UK a year
30% of adults report feeling less stressed after exercising. (Tennessee Chiropractic Association)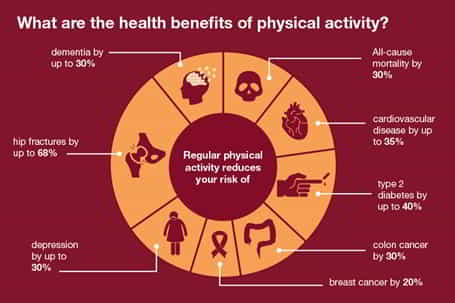 What are the health benefits of being fit?
The Public Health England paper on Health matters gives the benefits as shown in the diagram.

The UK Chief Medical Officers' report Start active, stay active has the infographic which shows the benefits of physical activity and some steps you can take.

The National Institute for Health and Care Excellence (NICE) has a number of clinical pathways that highlight the role of physical activity in preventing and managing illness.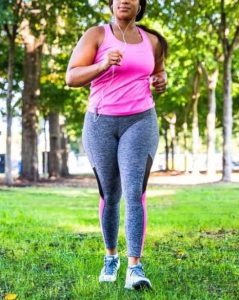 So, which of us are the most active?
The Public Health England paper on Health matters referred to above and the NHS Digital publication on Statistics on Obesity, Physical Activity and Diet – England, 2018 [PAS] give us this information on who's active and who isn't. To see these, see the link below in 'More Info'. Some key points are shown below. Overall, this shows how we are doing. 

As you will see below, how fit we are varies by gender, age, ethnicity and geography.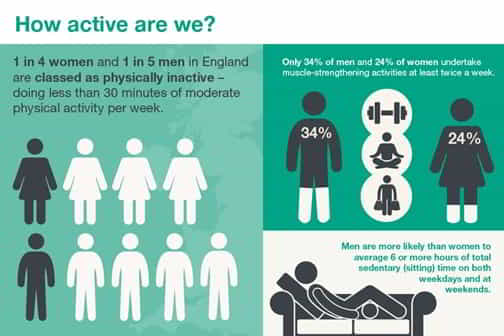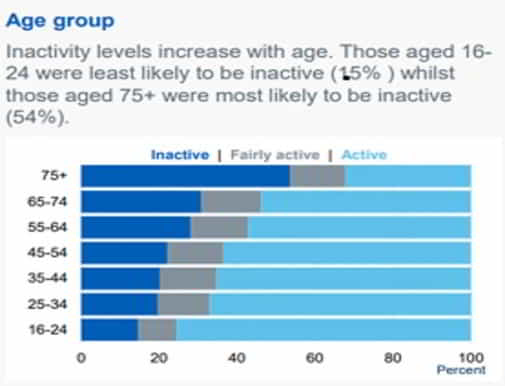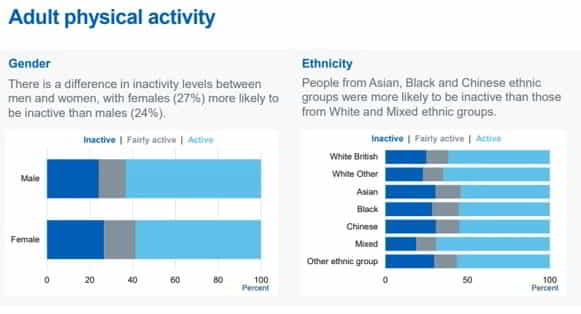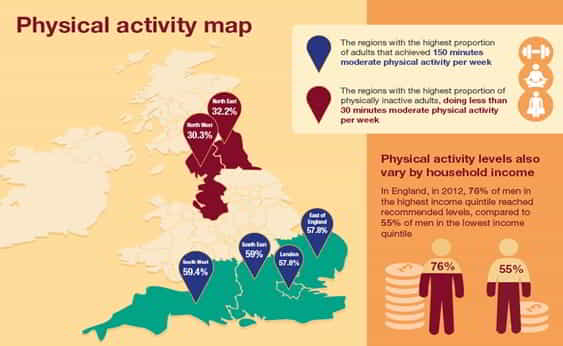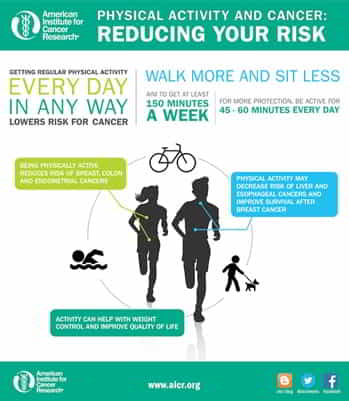 Does physical effort have an effect on cancer?
Physical activity can play a critical role across all elements of cancers; prevention, treatment, recovery and reducing the risk of recurrence..

A study on Cancers attributable to inadequate physical exercise in the UK in 2010 estimates that around 1% of cancers in the UK (around 3,400 cases every year) are linked to people doing less than the recommended 150 minutes of physical activity each week..

The UK Chief Medical Officers' Start active, stay active report (available in More Info below) highlights that a lack of physical activity is a risk factor for cancers of the:
Breast – for every 2 hours a week a woman spends doing moderate to vigorous activity, the risk of breast cancer falls by 5%.
Bowel - by getting cancer-causing substances through faster, reducing insulin (encourage tumour growth) and reducing prostaglandins (involved in inflammation)
Womb – reducing oestrogen levels and circulating insulin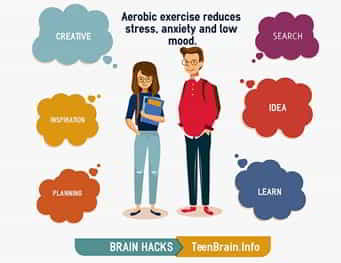 There is a link between physical activity and mental health
Physical activity can boost mental wellbeing and help reduce social isolation, a risk factor for depression.
The link between physical activity and depression is well established. Physical inactivity and depression in the community: evidence from a field study found that people who are inactive have 3 times the rate of moderate to severe depression of active people. NICE guidelines CG90 recommends a programme of physical activity for people with mild depression. Other positive outcomes of physical activity include:
• a sense of purpose and value
• a better quality of life
• improved sleep
• reduced stress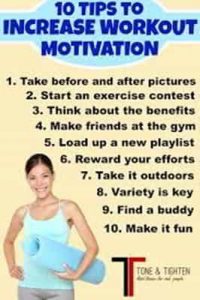 Top tips for staying motivated in fitness
Knowledge and Wisdom Fitness have some good ideas on how to motivate yourself to get fit and keep fit. It describes the need to set measurable goals and monitor progress, which is a recurring theme in our drives! You can also see a lot of these tips in ChangeDrive. See the KWF site here

See below for another list of tips which can help you stay motivated .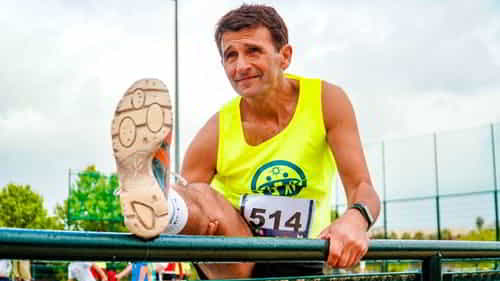 Fitness in our life third phase - why is this so important
The third stage of our lives traditionally starts over 60 but everyone ages at a different rate especially based upon a person lifestyle. From 50 onwards not only is our lives changing but our bodies and minds are changing. If we look at life journey we touch on age; being mental, physical and biological. So, someone who is 50 biologically could be 55 physically and 45 mentally.

45 onwards should be a good time when our children are nearly adults and we don't need to focus to much on raising children likewise we should in the main have accumulated money and be seeing home ownership happening. For sure our disposable income increases and we tend to start living a life. This extra disposable income also leads to over indulgence and more extreme patterns of activity start to form; luscious living, eating and drinking etc takes place. We over indulge because we can.
If we couple this overindulgence with the changes that start to occur when we hit the big 50 and for some start entering the third phase of our lives then things can ultimately take a down trend on health. Belly fat and obesity are predominant and exercise is reduced.
If you recognise some of these statements you will know exactly what we mean;
• I can't drink as much as I used to my bladder can't hold it
• I can't eat after 8 pm as it kills my digestion and I am up half the night
• I once could it a banana and chips at 2 am after 2 heavy drinking and not feel a thing, not now!!
• I can't grip that anymore my hand is aches due to too much sport when I was younger
• God, one day you wake up and there is a pain in your elbow, kills for a week then disappears!!
• Lotus position are you kidding, what with this belly, maybe when I was 20
• Run on the spot, are you mad, I've had 3 kids, I would pee myself!!!
• Where are my glasses/keys/ bag, I put them down here and they have gone!!
• Sex, love it, often now the mind is willing but sometimes the body is unable!!!
Entering the third phase is different for everyone just like the menopause is for women. Some women never even notice they have started or even finished the menopause whilst other have really bad time, with complex illnesses and side effects of medication.
This whole thing is called aging. It's the human body getting on.
If you have played rugby from 5 years old and didn't stop whilst your 40 and then started lushing life then by 55 you are likely to be obese and your skeleton will be well worn and start to creak. You might be one of life's 1% who remains extremely fit but for most it won't be the case. We go into the third stage with our bodies starting to creak with extra weight and unhealthy diets.
Staying fit during the lushing years is really important. Yes, go out and make hay while the sun shines but take care of your body as well.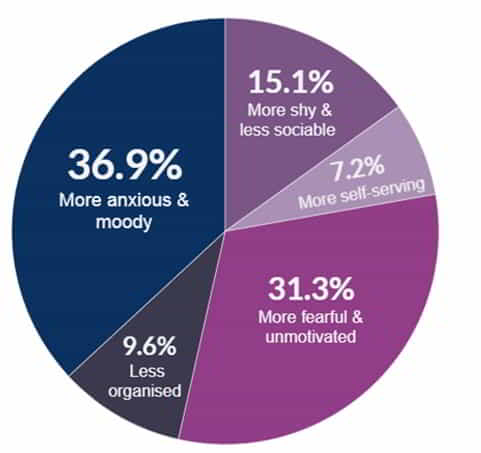 Menopause – the psychosomatic changes are clear to see
Menopause - it's a well-documented subject and effects women usually around 51. Around 1 in 100 women experience the menopause before 40 years of age. 73% Of Women Don't Treat Their Menopause Symptoms. Only 15% of women do not have any symptoms of menopause. 25% of women will suffer enough to seek medical relief.

For a woman entering the menopause is not only physical but also mental, hormones changes, body changes, skin is affected, more wrinkles appear. Take a look at a passport photo of yourself at 45 and at 55 and see the difference, it's scary..


Some of the symptoms of menopause are:
Irregular periods, Vaginal dryness, Hot flashes, Chills, Night sweats, Sleep problems, Mood changes, Weight gain, slowed metabolism, Thinning hair, dry skin, Loss of breast fullness.
A woman not only has to contend with physical aspect to menopause but also psychological impacts such as; mood changes such as irritability, sadness, lack of motivation, aggressiveness, problems focusing, stress, difficulty concentrating, and depression. Much like constant premenstrual syndrome (PMS), these effects can cause emotional strain.
Tips and remedies for dealing with symptoms associated with menopause
1. Eat foods rich in calcium and vitamin D
2. Maintain a moderate weight
3. Eat lots of fruit and vegetables
4. Avoid trigger foods
5. Exercise regularly
6. Eat more foods that are high in phytoestrogens
7. Drink enough water
8. Reduce refined sugar and processed foods
9. Eating regular meals may be important when you're going through menopause.
10. Eat protein-rich foods
11. Take natural supplements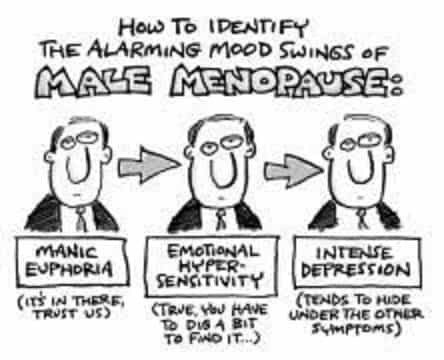 Manopause, its it real or fake?
According to most scientists there is a change in men, not as obvious as women in terms of female egg production but a change in hormones as aging occurs.

Aging-related hormone changes in men are different from those in women. Understand the signs, symptoms and treatment options.

Debunking the male menopause myth
The term "male menopause" has been used to describe decreasing testosterone levels related to aging. But aging-related hormone changes in women and men are different. In women, ovulation ends and hormone production plummets during a relatively short period of time. This is known as menopause. In men, production of testosterone and other hormones declines over a period of many years and the consequences aren't necessarily clear. This gradual decline of testosterone levels is called late-onset hypogonadism or age-related low testosterone.
Recognizing low testosterone levels:
A man's testosterone levels decline on average about 1% a year after age 40. But most older men still have testosterone levels within the normal range, with only an estimated 10% to 25% having levels considered to be low.
Low testosterone levels in older men often go unnoticed. Testosterone levels can be checked by a blood test, but tests aren't routinely done. And many men who have low testosterone levels experience no symptoms. In addition, the signs and symptoms associated with low testosterone aren't specific to low testosterone. They can also be caused by a person's age, medication use or other conditions, such as having a body mass index of 30 or higher. Still, signs and symptoms suggestive of low testosterone include:
• Reduced sexual desire and activity
• Decreased spontaneous erections or erectile dysfunction
• Breast discomfort or swelling
• Infertility
• Height loss, low trauma fracture or low bone mineral density
• Hot flushes or sweats
Other possible symptoms include decreased energy, motivation and confidence, depressed mood, and poor concentration. It's also possible to experience increased sleepiness, sleep disturbances, mild unexplained anaemia, reduced muscle bulk and strength, and increased body fat.
According to the NHS:
Some men develop depression, loss of sex drive, erectile dysfunction, and other physical and emotional symptoms when they reach their late 40s to early 50s
Other symptoms common in men this age are:
mood swings and irritability
loss of muscle mass and reduced ability to exercise
fat redistribution, such as developing a large belly or "man boobs" (gynaecomastia)
a general lack of enthusiasm or energy
difficulty sleeping (insomnia) or increased tiredness
poor concentration and short-term memory

                                     These symptoms can interfere with everyday life and happiness, so it's important to find the underlying cause and work out what can be done to resolve it.
Tips on avoiding the symptoms of menopause are spookily exactly the same as menopause for women
1. Eat foods rich in calcium and vitamin D
2. Maintain a moderate weight
3. Eat lots of fruit and vegetables
4. Avoid trigger foods
5. Exercise regularly
6. Eat more foods that are high in phytoestrogens
7. Drink enough water
8. Reduce refined sugar and processed foods
9. Eating regular meals may be important when you're going through menopause.
10. Eat protein-rich foods
11. Take natural supplements                                                                                                                                                                                                                                                                                                                                                                                       
It can be over time if it becomes chronic. To stop metabolic Syndrome taking a hold It requires you to recognise the changes in your body and mind. Instead of thinking as a cup half empty person might think; oh well this is old age and I'm here now best accept it. I can't do anything about it. But you can. There are lots of publications books, remedies and suggestions that will help you turn a negative into a positive. Metabolic Syndrome can be avoided if you choose the right lifestyle. In you imagine its like driving a car on a mixture of wrong fuel. It will still work but it won't work to the best performance. The same analogy of a car only doing the school run is like an inactive person. The car needs from time to time a good run and to blow out the residues that build up in the engine.
Sticking with the car analogy. Why do we service and MOT the car each year? Because we want to keep it in good condition and able to perform for us when we need it. We should all have a blood test every 12 months and check out that everything is ok. Check your weight and fat content. Have a visit to a chiropractor to keep our skeleton in place. It moves and changes and needs Adjusting just your engine needs a tune.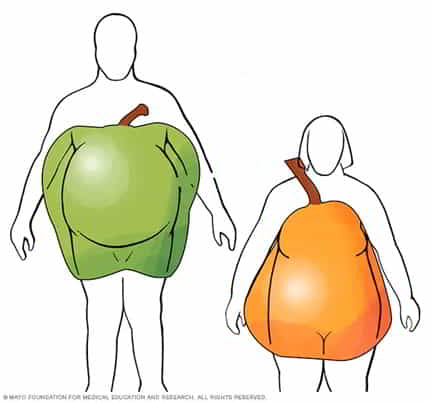 Metabolic Syndrome- what is it and how does it impact on your life
Most of the disorders associated with metabolic syndrome don't have obvious signs or symptoms. One sign that is visible is a large waist circumference. And if your blood sugar is high, you might notice the signs and symptoms of diabetes — such as increased thirst and urination, fatigue, and blurred vision.

Metabolic syndrome is a cluster of conditions that occur together, increasing your risk of heart disease, stroke and type 2 diabetes. These conditions include increased blood pressure, high blood sugar, excess body fat around the waist, and abnormal cholesterol or triglyceride levels.

Having just one of these conditions doesn't mean you have metabolic syndrome. But it does mean you have a greater risk of serious disease. And if you develop more of these conditions, your risk of complications, such as type 2 diabetes and heart disease, rises even higher. If you have metabolic syndrome or any of its components, aggressive lifestyle changes can delay or even prevent the development of serious health problems.
Risk factors
The following factors increase your chances of having metabolic syndrome:
Age. Your risk of metabolic syndrome increases with age.
Obesity. Carrying too much weight, especially in your abdomen, increases your risk of metabolic syndrome.
Diabetes. You're more likely to have metabolic syndrome if you had diabetes during pregnancy (gestational diabetes) or if you have a family history of type 2 diabetes.
Other diseases. Your risk of metabolic syndrome is higher if you've ever had nonalcoholic fatty liver disease, polycystic ovary syndrome or sleep apnea.
Prevention
A lifelong commitment to a healthy lifestyle may prevent the conditions that cause metabolic syndrome. A healthy lifestyle includes:
Getting at least 30 minutes of physical activity most days
Eating plenty of vegetables, fruits, lean protein and whole grains
Limiting saturated fat and salt in your diet
Maintaining a healthy weight
Not smoking
I want to get fitter and I know exercise is good for me, so
I'll take charge myself
I'm going to need some help and support
You have to decide that you want to get fitter and do more exercise – then it's just down to will power. If you think you have lots of willpower and create some new habits and stick to the plan then go ahead yourself and draw up your plan. If you know yourself and think you are likely to give up, then get support or join a group whereby you can get extra motivation when you need it.
In both cases there's more information on how best to do it on FitnessDrive – YouDrive Thinks – click here or the button on the back of the slider below.
Clicking the button on the back gives you more information and YouDrive's view!
You can register to join us as a member, when you'll be able to download our stuff and comment, or as a YouDriver when you'll also be able to check your health and set up your own action plans to make some improvements.  If you've already registered, sign in below. Or let us know what you think.
This 6 minute video from Brain and Memory Foundation is also accessed from the NHS website, which has other videos on exercise – click here. In addition there are plenty of exercise videos on YouTube.
"Strength does not come from the physical capacity. It comes from an indomitable will."
"Your body is your most priceless possession. Take care of it.."
It doesn't matter what stage  you're at – it's important to be the best you can be.  At the end of the day it's about taking personal responsibility – You Drive!
It's really your choice. You can find out more information about the subject, or see other institutions that can help by going to Support. There you will find organisations, training, coaching, self-help courses and other items to support your personal change. We have also started developing a panel of experts to provide info, advice, help and support. 
There are times when you need some help to meet your aims –  a helping hand. That might be  an organisation that can provide you with some help,  some specialised information or support, or just getting some background reading material.
You can see these by clicking the Support button here.  Some products or services contain affiliate links and we may receive a commission for purchases made through these links
Experts
We are compiling a list of experts who can provide advice, help or specialised services.  You will be able to access these experts from anywhere on our site you see our 'Experts' symbol.  Click the green E to see what our Experts list will look like, with a couple of imaginary 'experts' added!
Scroll down to see more information on this Drive. 
If you register you can also download reports, white papers, quizzes and other collaterals.  We will never ask you for any financial information, and we'll only send you the information you want. You can register for our site either above or in the footer below.  You can provide your own questions and experiences in order to help other members.  We only moderate for spam and inflammatory language – see our moderation policy.
If you've found this interesting, then please share it on social media.  Choose your network!
Walking Your Way to Weight Loss
A Simple Two-Part Approach to Becoming Fitter, Healthier, and Happier in 49 Days
If you want to lose up to 25% more body weight in 12 weeks and keep those extra pounds off for good, then read this …
The Self-Care Solution
A Year of Becoming Happier, Healthier, and Fitter–One Month at a Time
ABC's chief medical correspondent helps you ring in the New Year right with a resolution that's actually doable: a year-long plan to improve your emotional and physical health–from giving up alcohol to doing a digital detox, but each for only one month.
Live the Dream
A revolutionary guide to becoming fitter, smarter, more productive and less bored
Do you want to Live the Dream? The state of believing that your life is at the pinnacle and you possess everything you could want. Of course, you do! Who doesn't? The good news is that anyone can live life at the zenith if they are willing to do a few unconventional things.
Everything You Need to Know About the Menopause
(but were too afraid to ask)
An eye-opening, no-holds-barred guide to the perimenopause and menopause written by campaigner, journalist and documentary-maker Kate Muir.
Living With Metabolic Syndrome
The Complete Guide to Risk Factors, Prevention, Symptoms and Treatment Options
An estimated one in four British adults have metabolic syndrome. Metabolic syndrome refers to a combination of medical disorders – increased blood pressure, high blood sugar level, excess body fat and abnormal cholesterol level – that occur together, increasing the risk of heart disease, stroke and diabetes. With information on the latest research and treatments, Living With Metabolic Syndrome offers a breakthrough guide in understanding this ever-growing health problem.
A list of infographics from the Department of Health and Social Care explaining physical activity needed for different age ranges 
The Chief Medical Officer describes how much exercise we should be doing, with supporting documents
Cancer Research have a section on physical activity and cancer – click here to link
Download the original 2011 Start Active Stay Active report which  is by the four Chief Medical Officers of the UK
2011 Start Active Stay Active physical activity guidelines for adults (19-64) as an infographic.