Is it better to drink bottled water or tap water?
We have hopefully established how important water is, and the health benefits of drinking the right amount of water.
The next step is to decide what sort of water you should drink.  The main choices are bottled water and tap water.
See the arguments set out below and then decide what  you think.
It's healthier to drink bottled water
The main reasons people drink bottled water;
• The most common complaints about tap water are Taste 32%
• Worried about contaminants 31%
• Limescale 28%
• The main reason people drink bottled water:
• 39% think bottled water is healthier than tap water
• 35% think bottled water tastes better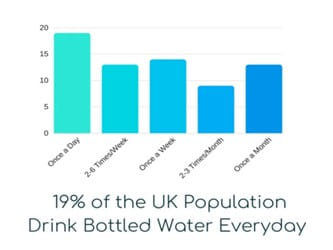 Is bottled water safe to drink?
The simple answer is yes sort of, maybe!! Its really down to personal choice and risk. There is no imminent danger to drinking bottled water but there has been research carried out that says micro plastic particles are evident in the water.
One 2018 study, for example, tested 11 globally sourced brands of bottled water from nine different countries. The researchers found that 93% of the bottles showed some signs of microplastic contamination, and that they contained double the amount present in tap water.
These findings suggest that the contamination is at least partially due to the packaging process itself. Researchers are now starting to investigate the impact of these microplastics on human health.
Microplastics appear to fall within the same category of endocrine-disrupting chemicals as obesogens, affecting human, animal, and marine metabolism, reproduction, oxidative stress, and several other factors.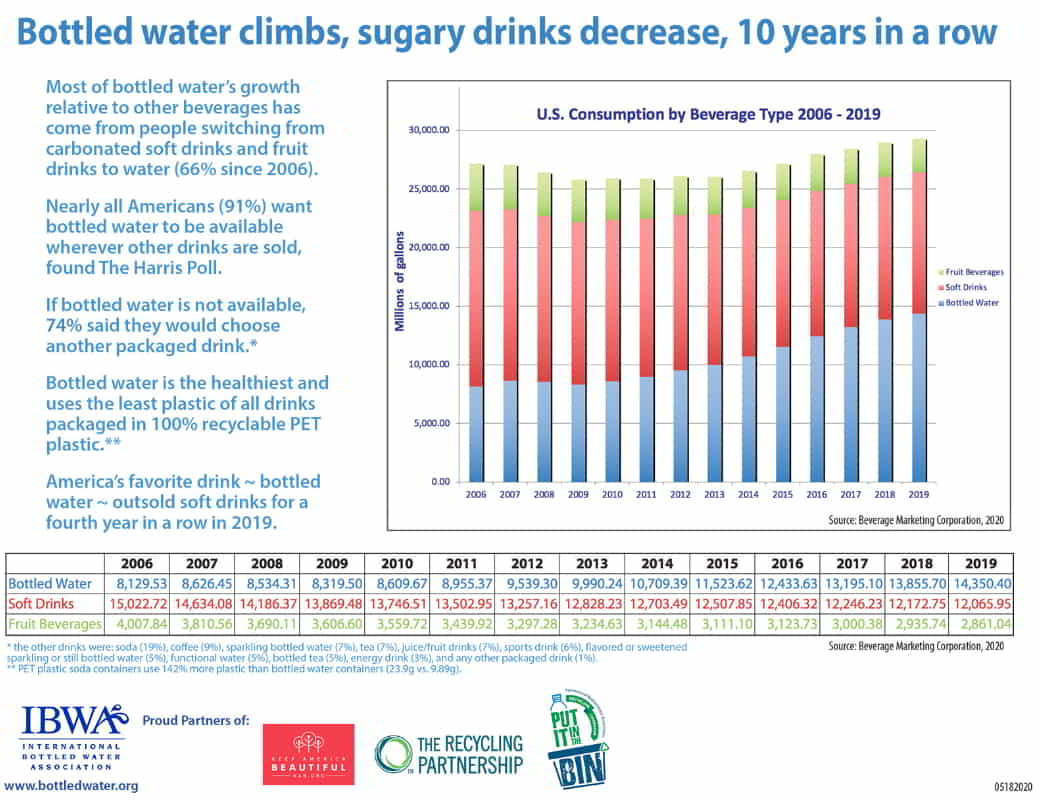 Bottled water increases
The global bottled water market grew at a CAGR of around 7% during 2015-2020. The latest assumption is that 100 billion gallons of bottled water are consumed each year.

What's the difference between mineral and spring water, and which is best
How is natural mineral water made?
Mineral water is also known as spring water because it comes from natural springs, which are places where moving underground water comes out of an opening in the land's surface. Mineral water can also be made artificially by adding salts to distilled water or aerating it with carbon dioxide to create more carbonation.

Mineral water is usually carbonated. Healthy people can drink mineral water without any problems, as long as they don't overindulge. Drinking it regularly in large quantities can have an adverse effect on the kidneys and can lead to the formation of kidney stones. Is purified or distilled water better? Purified water is usually a good option since the purification process removes chemicals and impurities from the water. You should not drink distilled water since it lacks naturally-occurring minerals, including calcium and magnesium, that are beneficial for health.
It's healthier to drink tap water
A study of over 1,000 people in Belfast found that they couldn't tell the difference between tap and bottled water when asked which was the more pleasant, pure, natural and refreshing.
 Is it ok to drink tap water in the UK?
The short answer technically is yes sort of. But there have been instances across the UK whereby drinking water has become contaminated. There are companies that have failed to warn consumers of toxic water and many companies have been fined for polluting rivers.
You will see that the industry regulators and watchdog are fining companies and introducing new measures to stop pollutions.
It is important to note that the majority of our drinking water coming through the tap is highly processed because it contains our sewage water, rivers, streams and brooks that run via factories and industrial plants as well as through the countryside where farmers and crop growers are spraying pesticides and herbicides and fertilisers on their fields. This is collected and processed to death and then chlorine is added along with an array of chemicals for health.
Further to this, when the water leaves the filtration plant it travels down the pipes many of which are from the Victorian Era and have cracks and leaks in them.
So, if you are going to drink tap water;
when you switch on the tap let it run for a moment to clear old water from the pipe.
Let the tap run slowly to avoid building up the pressure on the pipe and dragging residue which has settled.
Occasionally turn your tap on full for a minute or two to clear any sediment that be around.
Only fill your kettle with enough water for the drinks you have and replenish each time.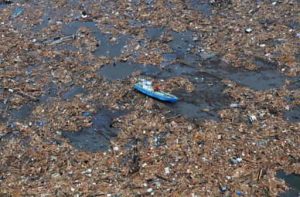 Plastic water bottles damage the environment
Water bottles make up half of all plastic waste in the Thames (London.gov.uk).
Also, production and transportation of the world's demand for bottled water uses the equivalent of 160 million barrels of oil per year (TheNational.ae)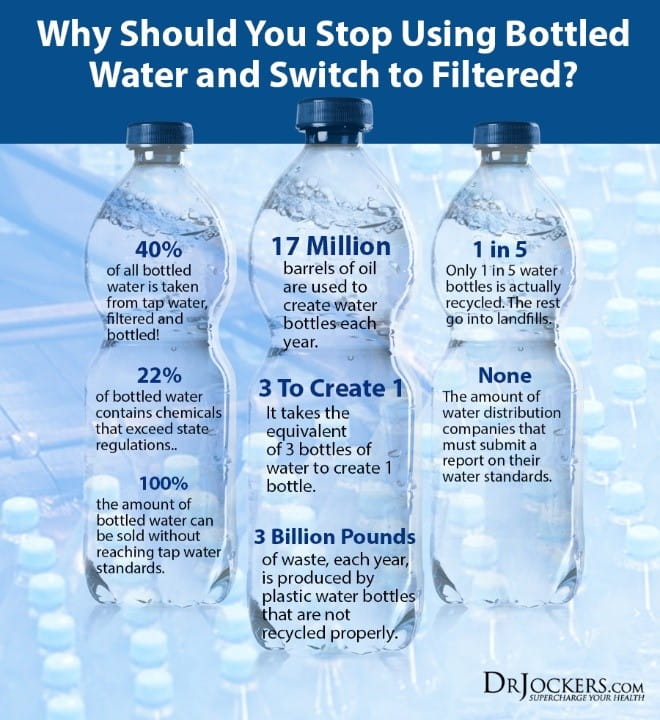 You can see more below, or go back to WaterDrive or Home
We can see both sides of this…
There are arguments regarding pollution on both sides of this debate.  You can see information on both sides in this drive.
The YouDriveHealth principals take slightly different views on this.
Filtered Tap Water
You can obtain a filter on the mains supply or simply run some fresh water into a filter jug and place the filter jug in the fridge and enjoy even fresher cleaner water. Or buy a Filter jug can be bought for as little as £20. Alternatively drink pure spring water.
We would recommend slowly fill a filter jug and store in the fridge. Transfer to a stainless steel water bottle for drinking at work.
If you prefer sparkling water you can buy a SodaStream device and gas bottle and have sparkling water without buying bottles of water.
You can see more below, or go back to WaterDrive or Home
Water: For Health, for Healing, for Life
You're Not Sick, You're Thirsty!
Asthma, allergies, arthritis, hypertension, depression, head-aches, diabetes, obesity, and MS. These are just some of the conditions and diseases that are caused by persistent dehydration.
Fruit Infused Water
50+ Original Fruit and Herb Infused SPA Water Recipes for Holistic Wellness
Super Healthy, Revitalizing, and All-Natural Fruit Water Recipes to Boost Your Wellbeing!
Water Codes
The Science of Health, Consciousness, and Enlightenment
The most revolutionary work to date on the subject of Water, Consciousness, and Spirituality. Through new science and ancient wisdom, Water Codes reveals the truth about Water and Consciousness, and decodes the leading sciences of health, DNA, energy, and enlightenment.
7 Cup Water Filter Jug With Advanced 5 Stage Filter
Water Quality Meter + Water Filter Cartridge Included, 1.7 litres
Available in 1.7 litres, 2.4 litres, 2.6 litres or 2.8 litres with or without filters.
SodaStream Crystal Sparkling Water Maker Machine
with 600 ml Reusable Glass Carafe for Carbonating and 60 L CO2 Gas Cylinder – Crystal Machine Only Compatible with Glass Carafe Bottle – Black
Instant carbonated water at home: Simply fill with tap water, sparkle and sip. Enjoy your favourite fizzy water any time
CanO Water
Still Resealable 24x330ml
Infinitely recyclable
There are apps to help you drink enough water – see the Healthline assessment of the top 5
Healthline also have a lot of information on how much water you should drink each day
Tap water drinkers can also see information at Join the Pipe
You can download the Water For Life White Paper from the Government here